---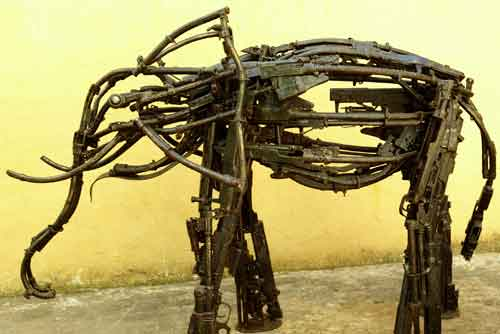 Elephant by Ou Vanndy — Photo: Chor Sokunthea '05
In 1998, the Royal Government of Cambodia began tackling the proliferation of illegal and surplus small arms through an integrated programme. By 2006, over 160,000 small arms had been publicly destroyed in Flame of Peace ceremonies.
In October 2003, Peace Art Cambodia began a metalwork skills training programme for apprentice artisans using thousands of these weapons as raw material.
Peace Art Cambodia works to:
replica breitling
Assist the development of metalwork skills and contemporary creative expression for apprentice artisans of Cambodia
Design, produce, exhibit and sell or donate products to promote apprentice artisans of Cambodia and a weapon free society
Assist the Royal Government of Cambodia in raising awareness of its stated objective of achieving a weapon free society
At a glance:
'To Be Deter-mined / At Arms Length' opens at Wat Phnom 19 August 2005 and continues until 30 September 2005.
In Photos:
More photos of sculptures, furniture and our workshop can be found in the photo gallery